Posted by Scott Cercy on Oct 12th 2021
Employee Recognition Awards
Employee recognition programs are a simple yet effective way to boost morale and increase employee engagement in any workplace. The right employee appreciation award can be an excellent tool for motivating your personnel, building positive relationships between co-workers, and instilling a sense of belonging in the company culture.
Such an award can inspire a sense of gratitude, and an important part of fostering a positive workplace environment is gratitude. When your customers are grateful, you see increased loyalty and revenue, but can you get there without employee engagement?
Starting a corporate awards program is a great way to promote company values by demonstrating to your employees that you're grateful for their contributions. An employee recognition award program will foster in your employees a sense of ownership over their work since they'll have a physical reminder of the company's appreciation for their efforts.
Top 10 Employee Award for Recognition Ideas
However, deciding to recognize employees, and starting an employee recognition program, is only half the battle. You should also answer these questions:
How many employee recognition awards should you present?
What categories of achievement do you recognize?
How often do you present awards to your employees?
To help you ideate an employee recognition strategy, we've compiled a list of the 10 best categories for an employee awards program. With this list in hand, you'll be empowered to design a personalized program that best inspires, motivates, and entertains your employees.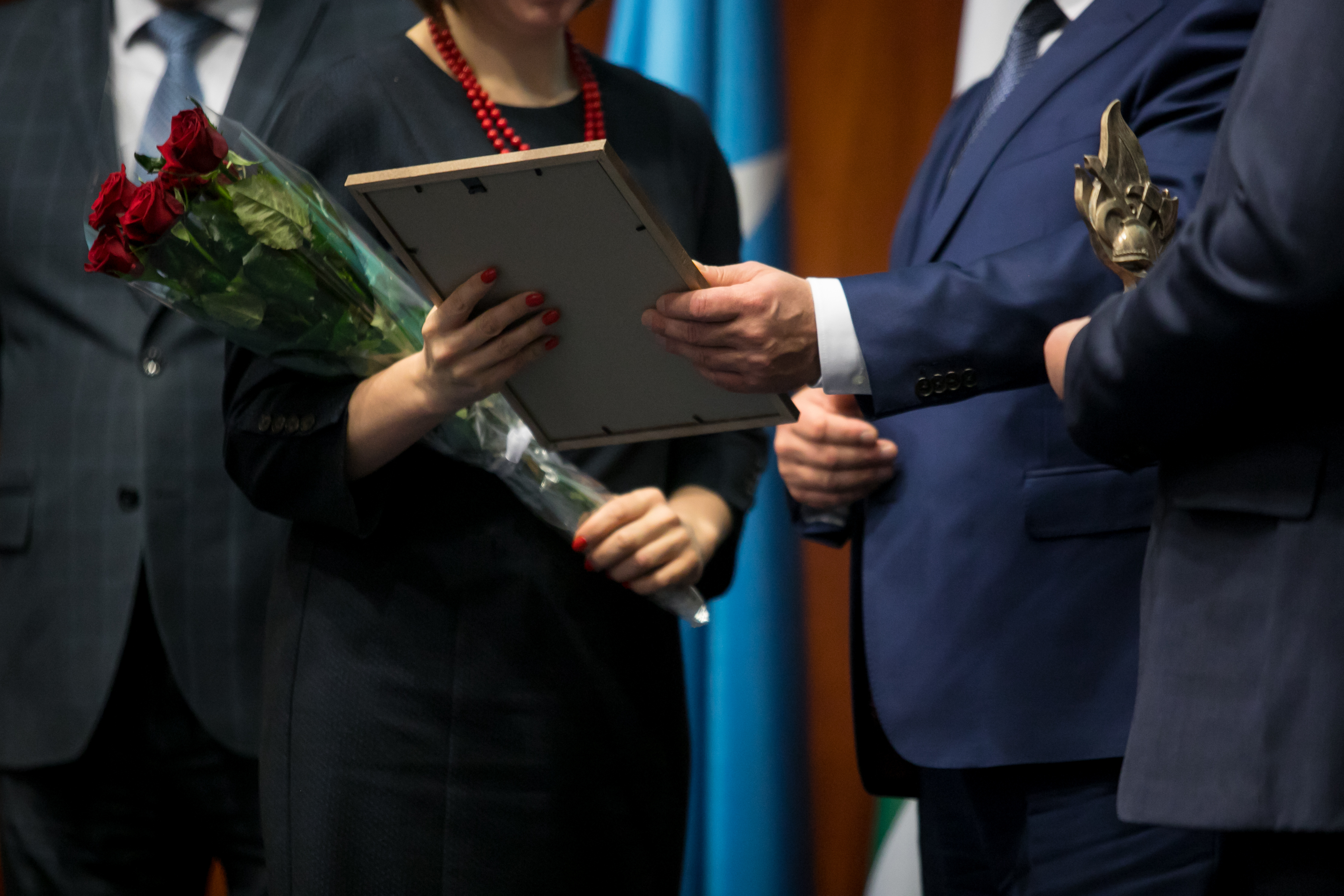 But first, a short note on employee award titles…
It's also important to inscribe each prize with a creative award title. After all, it's the award title that your employees, their friends, and their families will be reading years later.
So, to take a little more weight off of your shoulders, we've also included some ideas for reliable employee award titles. Use these to help get you brainstorming some clever names for your employee awards.
10. Teamwork Awards
A cohesive, collaborative, and communicative team is critical for achieving optimal performance with your business. The best way to promote these attributes is, of course, to present team members with an employee award when their actions promote these characteristics.
Whether it's a certificate for finding the best candidates and recruiting them as other team members or a plaque for contributing to the completion of another department's project, employee recognition is important.
Take note of employees going the extra mile to help others get their tasks completed successfully, punctually, and accurately.
The Best Teamwork Recognition Employee Awards Titles
a) The High-Five Prize
b) The Team Player Award
c) The Team Leader Prize
d) The Dream Team Award
e) The 'Squad Goals' Award
09. Innovation Recognition Awards
Are there processes in your workflow that can be made more efficient?
Perhaps, there are easier, yet more obscure ways, to complete tasks that others aren't aware of?
Are these processes still in place simply because "that's how it's always been done"?
Motivate your employees to update and streamline operations by presenting innovation recognition awards. Anytime an employee provides new information to their team members that promotes efficiency and improves productivity, you should recognize their innovative strategies with an award!
The Best Innovative Employee Recognition Award Titles
a) The 'Galactic Gratitude!' Prize
b) The Key Contributor Award
c) The Mover of Mountains Honor
d) The Unstoppable Force Award
e) The Brilliant Groundbreaker Award
08. Customer Service Award
When your employees surprise and delight your clients, they deserve to know that the company appreciates their contributions. After all, without customers, you only have half of a business – and you won't likely have that for very long.
Promote a welcoming and hospitable environment for your clients by rewarding employees for going out of their way to consistently provide good customer service.
You can even create subcategories with both recurring awards, like "Most Customer Reviews Earned," and rare/special awards like "Customer Service MVP" and "Potential Crisis Averted."
The Best Customer Service Employee Award Titles
a) The 'A Port in the Storm' Award
b) The Client/Customer/Guest Whisperer Award
c) The Loyalty Royalty Trophy
d) The 5-Star Service Award
e) The '10/10, Would Buy Again' Award
07. Safety Awards
Safety recognition awards are particularly ideal for warehouse and factory environments. You can reward management when they find new ways to improve awareness of safety hazards, or employees for maintaining safe operating procedures.
However, safety awards should not be overlooked by office workplaces, as there are many potential hazards in an office environment.
In fact, office workers often tend to be more complacent to the risks of their workplace, since hazards aren't broadcast as readily as they are in warehouse and factory settings. Minimize complacency by recognizing your employees' efforts to maintain a safe workplace.
Whether an office worker offers a simple reminder to a colleague to lift with their legs, or a line cook double-checks the dates on the food in your restaurant freezer, never miss an opportunity to show your employees that you value their foresight.
The Best Safety Employee Award Titles
a) The Safety Czar Award
b) The Staying Alive Prize
c) The Lifesaver Award
d) The Sentinel Award
e) The Stalwart Award
06. Leadership Recognition Awards
Of course, to build a reliable team, you need competent leadership.
It's often easier to promote from within, so it's advisable that you foster leadership skills in junior associates so that you can one day trust them with more responsibility.
What better way is there to promote the behaviors you want than to reward your employees for demonstrating excellence in leadership?
This can be for members of your management team, or even junior employees. Anytime an employee takes initiative and leads their colleagues to success, they deserve to know that you noticed. Express your gratitude with a leadership award.
The Best Leadership Recognition Award Titles
a) The Team Leader Alpha Award
b) The Commanding Officer Award
c) The Tip of the Spear Award
d) The Lead from the Front Award
e) The Guiding Light Honor
05. Employees' Choice Awards
This is where it starts to get really fun.
We mentioned ownership before, right?
Well, inviting your employees to participate in peer-to-peer recognition, by nominating, voting, and recognizing their colleagues, is an excellent, and exciting, way to facilitate a sense of ownership.
You can set up amusing subcategories, like "Longest Emails" or "Best Voice for Screenshare Videos."
Alternatively, you could base them on departmental or project-wide achievements. Restaurant teams can vote for "Fastest Closing Shift Workers" and "Friendliest Opening Shift Workers," while factory staff might choose the "Most Efficient at Pallet Packing."
The Best Peer-to-Peer Recognition Award Titles
a) The Helping Hand Award
b) The Key Contributor Award
c) The Most Dependable Award
d) The Fastest Email Responder Award
e) The 'Associate Appreciation Sidekick Salute!' Award
04. Sales Awards
Fun in a different way, sales awards allow you to promote a sense of healthy, productive competition in the workplace. By creating an awards program, you can recognize a variety of achievements, such as the greatest increase in sales, the largest total transaction, and the longest-lasting account.
While commission may incentivize your sales staff to earn, recognition awards motivate them to excel.
Even if you don't have a commission cap, the performance of your sales team can plateau as they grow comfortable with their routine.
By recognizing them with more than a basic bonus, they have a tangible incentive for pushing themselves further.
The Best Sales Employee Award Titles
a) The Most Sales Award
b) The Biggest Sale Award
c) The Most New Clients Award
d) The Most Loyal Clients Award
e) The Highest M/M (Y/Y) Growth Award
03. Mentorship Recognition Awards
Often confused with Leadership Awards, this form of recognition acknowledges an employee's contributions to the personal and professional growth of their team members.
So, while productivity, efficiency, and results are important, this award highlights the significance of fostering a collaborative and competent environment.
To further facilitate a corporate culture that values teamwork and innovation, you must reward your employees for helping their colleagues to find new ways to learn and excel. Building a reliable team of talented staff is easier when they mentor each other to success, and that's more likely to occur if you express your appreciation for their drive.
The Best Mentorship Recognition Award Titles
a) The Strongest Shoulders Award
b) The Outstretched Hand Award
c) The Most Mentees Promoted Award
d) The Most Compassionate Colleague Award
e) The Formidable Foundation Award
02. Employee of the Month Awards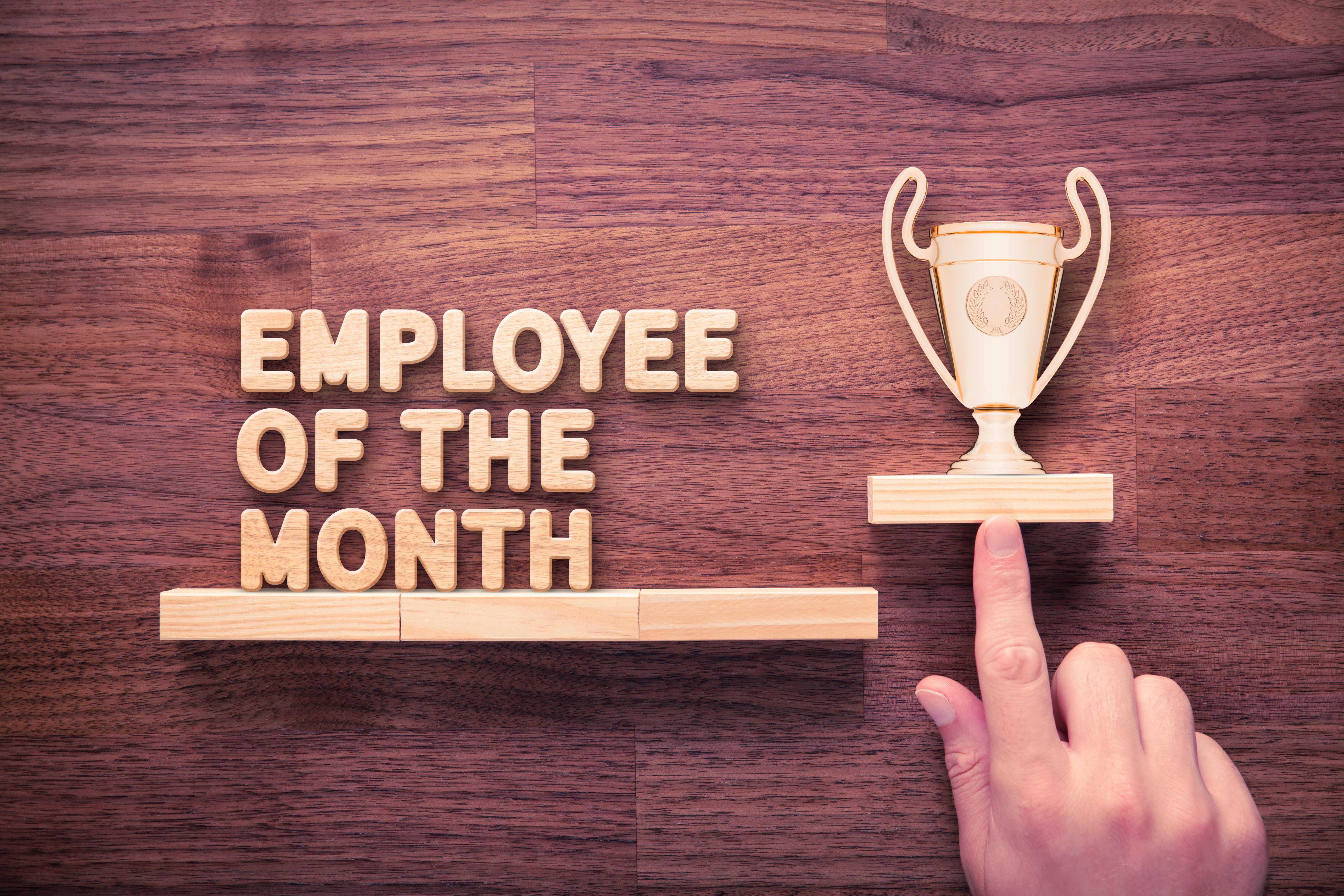 A very common award, the Employee of the Month (EOM) award is a versatile, and reliable, option. It can serve as the only recognition you offer, or it can contribute to a larger program.
One strategy is to use the previous categories as guideposts for how to recognize a potential EOM. In this strategy, earning an EOM award may not guarantee that the employee will also earn in other categories, but it certainly doesn't hurt.
Alternatively, you can use the EOM as a means for tracking and rewarding different metrics than what your annual program covers.
One employee's actions may earn them the Teamwork Award at the end of the year, but this month's EOM award goes to Eleanor for running to the store when we all forgot Jackson's birthday.
Employee of the Week: Gamify Your Awards with Brackets
There are many workplaces in the United States that have friendly competitions during the basketball season every year. They track the progress of each team using brackets, which offers a fun way to make the office competition more visual.
You can gamify your corporate recognition rewards by implementing Employee of the Week Awards, and even Employee of the Quarter. Employees have to earn an EOW award to qualify for EOM, and they must receive an EOM to qualify for the EOQ.
Those employees that are awarded the EOQ qualify for the Department/Company MVP Award. You can let your employees vote for the MVP – or choose for yourself – then present the results at an annual event.
The Best EOM Employee Recognition Titles
a) The Ace Employee Award
b) The September Superstar Award
c) The October Outperformer Award
d) The 1st Q1 Contender Award
e) The Holding Down December Award
01. Work Anniversary Awards
Employee anniversary recognition is, essentially, the culmination of all other awards. If the previous categories help you to build a strong and dependable team, then this category motivates your employees to stay loyal to that team.
A corporate culture that encourages teamwork, rewards mentorship, and promotes leadership also facilitates a sense of loyalty and pride among employees. This, combined with awards of increasing quality, and incentives of increasing value, will motivate your employees to stick around for longer.
Years of Service Recognition Awards
Recognizing an employee's years of service is vital. The easiest and, perhaps most common, strategy is to reward employees for reaching specific milestones, such as 5, 10, 15, and 20 years of service. Alternatively, you can present awards more often to reduce the waiting time between them, or create a combination of these two strategies that best suits your workplace.
The Best Employee Anniversary Recognition Award Titles
a) The Rising Star Award (1 Year)
b) The Nickel Award (5 Years)
c) The Dime Award (10 Years)
d) The Icosahedron Award (20 Years)
e) The Platinum Star Award (25+ Years)
Where to Find the Best Employee Recognition Awards
Once you have an employee awards program developed, you have to source the actual prizes themselves. A reliable strategy is to create a tiered system of increasingly valuable awards.
For example, you could present a premium acrylic award for annual achievements, and a premium art glass award for more rare accomplishments, like 5 or more years of service. It's also always great to include personalized certificates, as well, to detail and commemorate your employees' contributions.
Of course, you can't forget the awards ceremony! Just be sure to find an awards supplier that you can trust to be timely and reliable. We know recognition at Paradigm Recognition, so you can be confident that you're in good hands.
Better yet, we enjoy finding new, creative ways for making recognition fun. We'd be delighted to share with you what we've come up with, so reach out to our team today to find creative awards for recognizing employees.